The price of a stock varies according to supply and demand, and can change even by the hour. Day Traders are investors who buy and sell stock very quickly, sometimes holding stocks for only a day.

Stock tables or quotes found in the paper, on TV or on the Internet aren't that hard to read once you know what each column represents. Typical listings look like this:
52 wk Yld Vol Net
Hi Lo Stock Div % P/E 100s Hi Lo C
lose Chg
12 6¼ WGT … … 50 4000 9 8¾ 9 + ¼
43 38 BlCp 2.0 5.0 8 203 40 40 40 …
The first "Hi" listed is the high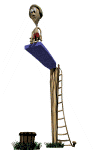 est price Widget stock reached in the past year. "Lo" is the lowest price. Widget pays no "DIV" or dividends so there's no percent yield. Widget's P/E of 50 represents its stock price divided by earnings from the last year.
The "VOL" is the volume or number of Widget shares traded per day listed in the hundreds (add "00" to the end of the number shown), and it's very high. During this day, the price of Widget stock changed by the hour – the high price was 9 and the low was 8.75. It closed at 9 and therefore is up by ¼.
If the closing price is up or down more than 5% from the previous day's close, then the entire listing for that stock will be shown in bold.

Price/Earnings Ratio(P/E) shows the relationship between a stock's price and a company's earnings. You divide the price per share by the earnings per
share. A high P/E like 50 may mean the stock is growing fast and earnings projections are high. The P/E is often used to compare similar companies in the same industry.
Percent Yield (Yld/%) is the percent of the stock's price paid as a dividend. A high yield like 10% can make a stock more attractive. A stock's P/E and Percent Yield give you a clue to how well the stock is performing, but investors look at many other factors too.
Let's compare Widget with a blue chip (BlCp) stock shown on the second line. BlCp's price is high but stable, not only on this day but throughout the last year. It's not trading at a high volume, but it's paying consistent dividends to its stockholders.

There are rumors that BlCp stock will split. A stock split means the price of the stock will be cut in half. You will own twice as many shares at half the price. For example, if you own 200 shares at $40, after the split, you'll own 400 shares at $20.
If BlCp splits, it will probably attract more investors because it will become more affordable, and investors will take a new look at it.
There are many stock market games on the Internet where you can pretend to invest $100,000 in the market and track your success. To try one, click here.
For more on what you should know before investing, click here.
See what you learned.

Check out "Stocks: Owning a Piece of the Action"